Our Products
Spice ball infuser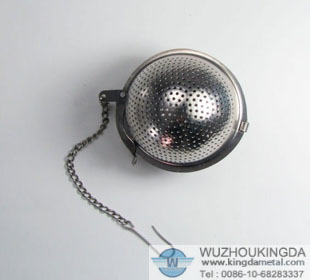 Spice ball infuser
Category:Other Deep Processing Products
Material:stainless steel sheet
Properties:Once cooking is completed, remove Spice Ball by using attached stainless steel chain
Application:Use this convenient spice and herb ball to infuse liquids for flavorful homemade stocks, soups, hot spiced cider

Inquiry now
or

Send email
Mesh Description
Contact Form
Recommend Products
Spice ball infuser
Material: stainless steel sheet
Features of the spice ball infuser
Place loose spices into infuser and then place infuser ball into soups or stews, allowing the chain to remain outside the pot. Once cooking is completed, remove Spice Ball by using attached stainless steel chain
Applications of the spice ball infuser:
Use this convenient spice and herb ball to infuse liquids for flavorful homemade stocks, soups, hot spiced cider, and mulled wine and aromatic pots of tea.
Cleaning: After use, dispose of leaves and rinse with warm water to clean mesh.
If you are interested, pls feel free to contact us. TEL: 0086-10-68283337, Email: service.wzjd@hotmail.com