Our Products
Food cover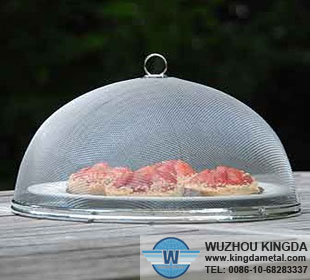 Food cover
Category:Other Deep Processing Products
Material:stainless steel
Properties:firm structure and beautiful appearance, which is durable in use
Application:just what you need if you enjoy outdoor dining and safe from bugs while outdoors

Inquiry now
or

Send email
Mesh Description
Contact Form
Recommend Products
Food cover
The specifications of Food cover
1. The materials of Food cover: stainless steel
2. Finishing: spray-painted with different beautiful colors
3. Packing: poly bags and cartons
The features of Food cover
1. Food cover is eco-friendly and non-flexible.
2. Food cover is non-toxic and anti-corrosive.
3. Food cover has the firm structure and beautiful appearance, which is durable in use.
The applications of Food cover
1. Food cover is good for protecting the food on table
2. Food cover helps a lot to keep food from annoying fly and dust, with lovely appearance.
3. Food cover is just what you need if you enjoy outdoor dining and safe from bugs while outdoors.
If you are interested in our products, please feel free to contact us. TEL: 0086-10-68283337. Email: sales.wzjd@gmail.com