Our Products
Wire wine holder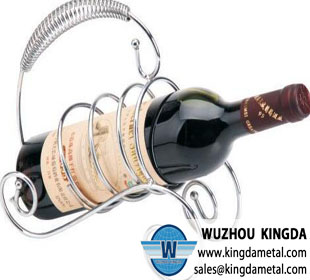 Wire wine holder
Category:Racks and Shelves
Material:stainless steel wire 201, 304, iron
Properties:bright color, unique design, popular style, clean and hygienic
Application:used into bathroom, home, KTV, warehouse, and any else places to hold the wine, display your wine when you are drinking it

Inquiry now
or

Send email
Mesh Description
Contact Form
Recommend Products
Wire wine holder
The details of wire wine holder
1. The materials of wire wine holder: stainless steel wire 201, 304, iron
2. Usage: holding wine
3. Color: silver
4. Surface treatment: powder coating
5. Translation: shipping, express
The characteristics of wire wine holder
1. Wire wine holder has bright color, unique design, popular style, clean and hygienic
2. Wire wine holder has heat resistance, beautiful surface, more durable into using
3. Wire wine holder has the better materials, nice technique support and you can use safely
4. Wire wine holder could use for a very long life, but the price is competitive
1. Wire wine holder could be used into bathroom, home, KTV, warehouse, and any else places to hold the wine.
2. Wire wine holder is usually used to display your wine when you are drinking it.
3. Wire wine holder has the excellent quality and different styles and size a full range of steel wine bottle holder.
All products can be customized on the basis of your order.
If you are interested in our products, please feel free to contact us. TEL: 0086-10-68220585. Email: sales@kingdametal.com