Our Products
Stackable cooling rack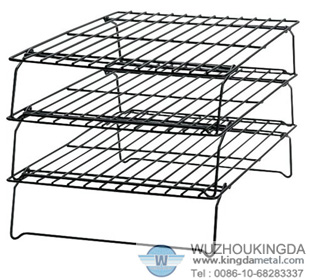 Stackable cooling rack
Category:Racks and Shelves
Material:stainless steel wire
Properties:wire mesh products
Application:be used together for big jobs or taken apart when only one or two are needed.

Inquiry now
or

Send email
Mesh Description
Contact Form
Recommend Products
Stackable cooling rack
1. Material: stainless steel wire
2. Surface treatment: black powder coat finish
3. Features of the stackable cooling rack:
•stackable cooling rack stacks and collapses for space-efficient use
•Sturdy steel wires allow airflow while securely holding small or large items
•Reinforced nonstick coating for easy release and clean-up
•Safe in the dishwasher
•Each grid measures 16-1/5 by 10-1/5 inches
This stackable cooling rack provides a safe place for fresh-out-of-the-oven desserts to settle while also fulfilling another popular baker's demand-space efficiency. The stackable grids each measure a generous 16-1/5 inches by 10-1/5inches and can be used together for big jobs or taken apart when only one or two are needed. Crafted with narrowly spaced steel wires, the grids securely hold even small items without letting them slip through the cracks while allowing air to flow around food freely. The nonstick coating also releases food smoothly and cleans easily in the dishwasher. With wide-set, stable legs, this cooling rack stands strong even under heavy items, yet is easily collapsible for flat storage in between baking sessions. Simple, reliable, and effective, the rack is an essential member of any kitchen.