Our Products
Dish rack with tray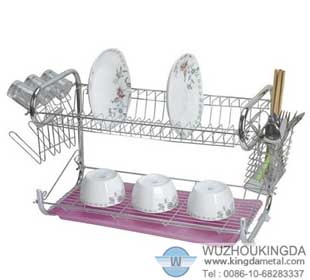 Dish rack with tray
Category:Racks and Shelves
Material:Low carbon steel wire, stainless steel wire and others
Properties:Racks
Application:put plates, cups, forks, knives, and other dinner ware

Inquiry now
or

Send email
Mesh Description
Contact Form
Recommend Products
Detailed description:
Dish rack with tray
Material: stainless steel wire
Advantage:
•The display was made of high quality metal material with powder coating finish.
•We have a good various of size and color to witness your different need;
•welcome customers design or drawing;
•The display can be used in shop, supermarket;
•Good service and high quality can ensure us to establish long-term trade relationship with customer.
Usage: can be put plates, cups, forks, knives, and other dinner ware.