Our Products
Wire Mesh Containers & Baskets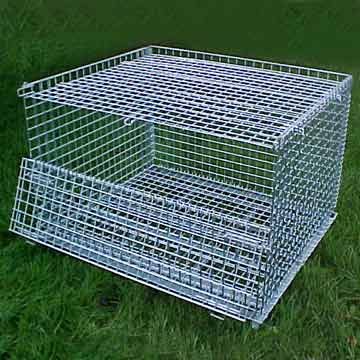 Wire Mesh Containers & Baskets
Category:Mesh Baskets
Material:Wire Mesh Containers & Baskets
Properties:Wire Mesh Containers & Baskets
Application:Wire Mesh Containers & Baskets

Inquiry now
or

Send email
Mesh Description
Contact Form
Recommend Products
Wuzhou kingda post-galvanized wire mesh containers are galvanized after welding for a lifetime of rust resistance. Caution, other companies use a pre-galvanized wire that with moisture or high humidity will rust at the point-of-weld and cause the basket to lose its structural integrity. Other companies use a gray paint finish that will chip, discolor or rust within the first year of use creating an unsightly appearance within your warehouse, distribution center or retail store. We offer the highest quality electro-galvanized finish that is smooth to the touch, bright and shiny with absolutely no oily residue. The overall quality of our wire baskets is superior to that of our competition.
Wire containers are the clear choice for better bulk material handling. Wire baskets are hard working, returnable container systems that deliver high visibility savings. Handle, transport and store bulk parts and material the easy way. These tough, welded wire containers provide quick content identification, promote better material flow, and more efficient stock control.
Baskets are self-cleaning because dust cannot accumulate on the wire mesh grid. Collapsible wire shipping containers are widely used for bulk materials handling. Light and strong, they're all muscle, with low weight-to-load ratio. Which means you move more stock, less container. Contents are clearly visible, even when stacking 3 or 4 high; so it's the easy way to see what you've got.
Our wire baskets are designed and built for rugged, long life service. They are available in a variety of sizes and capacities. Standard features include half or full drop gate (for ergonomic access to product even when stacked), locking gate handle, heavy-duty understructure & standard feet. Options include dividers, shelves, card holders, name plates, casters, locking security lid, heavy duty feet, fork stirrups, rigid sides & bar runners for storage on rack beams.Finishes include oven backed gray enamel (assorted paint colors), galvanized, chrome and zinc.