Our Products
Perforated medical basket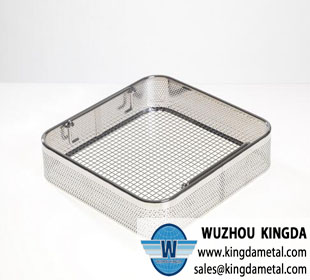 Perforated medical basket
Category:Mesh Baskets
Material:stainless steel
Properties:beauty design, safety and health, do not rust
Application:extensively used in medical equipment, food utensils disinfection and chemistry laboratory, chemical industry, medicine, petroleum accessories

Inquiry now
or

Send email
Mesh Description
Contact Form
Recommend Products
Perforated medical basket
The abstracts of perforated medical basket
1. The materials of perforated medical basket: stainless steel
2. Hole shape: round, square or customized
3. Size: by customized of yourself
4. Color: silver
5. Surface treatment: Electrolytic polishing, perforated
The characteristics of perforated medical basket
1. Perforated medical basket is beauty design, safety and health, do not rust
2. Perforated medical basket has environmental protection, strong, easily to clean
3. Perforated medical basket is heat-resistant, acid and alkali resistance
4. Perforated medical basket is anti-rust, safe to use and strong and durable
5. Perforated medical basket is not easily to rust, out of shape, and stability structure
The applications of perforated medical basket
1. Perforated medical basket is extensively used in medical equipment, food utensils disinfection and chemistry laboratory, chemical industry, medicine, petroleum accessories.
2. Perforated medical basket also can be used into the kitchen to storage the utensils, and the many tools in the kitchen.
All products can be customized according to your requirements.
If you are interested in our products, please feel free to contact us. TEL: 0086-10-68220585. Email: sales@kingdametal.com