Our Products
Stainless steel teapot filter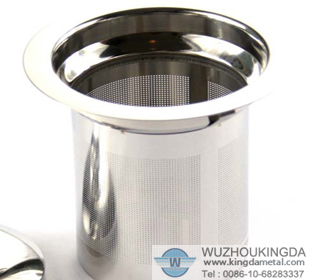 Stainless steel teapot filter
Category:Filter Screen
Material:stainless steel wire
Properties:Easy to clean
Application:filtering green tea, black tea, fruit tea, purer tea

Inquiry now
or

Send email
Mesh Description
Contact Form
Recommend Products
Stainless steel teapot filter
1. Introduction: This premium glass tea pot comes with a removable stainless steel filter and stainless steel lid. The fine holes in the easy to clean filter makes this ideal for all teas and infusions. It is suitable to make tea for four to six people.
2. Stainless steel teapot filter features:
2.1 Use the borosilicate glass as material, clear, environment-friendly, good-touch feel.
2.2 Resist the sharp low temperature and sharp high temperature very well.
2.3 Easy to clean; Dishwasher friendly; don't absorb the tea flavor.
2.4 Good decay resistance to the acid, alkali chemical substance.
3. Maintenance of Stainless steel teapot filter:
The glassware with metal materials is not into the microwave oven
You will clean up before the using
You should be gently to this product, avoid to collision
If you found damaged or crack, please stop to use it
Don't make the glassware above the different parts of body
Please put the water or drinks before heated the product.
4. Mainly application of Stainless steel teapot filter:
It is used for filtering green tea, black tea, fruit tea, purer tea, scented tea, health tea and so on. Besides, Stainless steel teapot filters also widely used in coffee, hotel, teahouse, and restaurant and so on.
5. The sizes can be made according to your requirements.