Our Products
Stainless steel tea infuser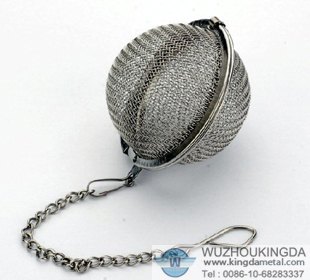 Stainless steel tea infuser
Category:Filter Screen
Material:stainless steel wire
Properties:Filter mesh
Application:hold and brew loose leaf tea

Inquiry now
or

Send email
Mesh Description
Contact Form
Recommend Products
Stainless steel tea infuser
1. Material: Stainless Steel Wire 304, 201and others. Stainless steel tea strainer which with an stainless chain can be easily take out from the teapot.
2. Stainless steel tea infuser features:
2.1 Anti-corrosion and anti-rust characteristics;
2.2 Simple design and practical value;
2.3 Environmentally friendly, it can replace tea bags and recycle to use.
3. Application of Stainless steel tea strainer:
Stainless steel tea infuser is designed to hold and brew loose leaf tea. Tea leaves are placed into an infuser, submersed in hot water and steeped. Tea infusers, which replace tea bags, are traditionally made of stainless steel mesh and are submerged into water by a chain. Several other types of infusers are available, so choose one that best fits the recipient's needs and lifestyle. Besides, it can also be used to hold spices in the kitchen during cooking the meal.
4. The maintenance methods of Stainless steel tea strainer:
4.1 Timely washing clean after the usage.
4.2 Place to a clean place to avoid dust.
4.3 Boil 2-5 minutes during the use of a period time.
5. The sizes can be made according to your requirements.